Is your spouting overflowing??
Our revolutionary system quickly and efficiently clears and cleans your gutters without the use of ladders. 
Coming in to autumn, leaves, dirt and branches can block up external gutters meaning water can get into your home or just overflow on to the path and windows below.
Sheds and Outhouses need attention to..
They may be an "out of sight, out of mind" aspect of your home exterior, but neglecting them can lead to costly repairs.
5 Reasons you should get your gutters cleaned:
1 - Prevent water damage. When gutters and downspouts are blocked with leaves and debris, rainwater may not drain properly. As water overflows from gutters, it can cause water damage on both the interior and exterior of your home. 
2 - Protect your roof. Clogged gutters give rainwater nowhere to run. When water continues to flood over, it can leave rotten or a leaky roof in its wake.
3 - Keep pests from causing trouble. Gutters clogged with leaves can make desirable homes for rodents, birds, and insects. The last thing you want is a pest infestation in your home!
Keeping in mind safety is more important than clean gutters, our technicans are equipped with our new machine that can identify with a camera the rubbish causing blocked gutters, then remove it without the use of a ladder!
So before your household, woodshed, barn or shearing shed gutters get to this irreversible state give us a call to clean out your gutters. It is a lot easier to clean out a gutter than replace an entire gutter system.
Give us a call now to remove the rubbish you may not even know is there.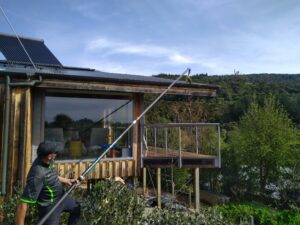 4 - Reduce the risk of a cracked foundation. When water is blocked from traveling away from your home, it can pool around the foundation of your house. This water can crack your foundation when it expands and freezes in the winter months.
5 - Save you money. Gutter and downspout cleaning can help prevent unexpected and expensive projects down the road. Taking preventive measures now can help minimize the likelihood of having to repair or replace your roof.